Château Monfort: 5* Hotel & Spa
​Step into Château Monfort with me….
Swirling Staircases and beautiful architecture,
delicious food surrounded by decadent furnishings,
LBV sits with an aperitivo in one hand
​in a modern day fairytale ….
---
The Location
Nestled at the heart of the City, Chateau Monfort stands in a prime location, promising to deliver all that Milan is known for…

beautiful architecture, stylish ​decor, delicious food, & more
---
Prepare to be charmed….
---
​A building seeped in milanese history showcasing italien architecture at its best, designed by the famous Milanese architect Paolo Mezzanotte.
---
A FairyTale Stay
Little did I know when checking into Chateau Monfort, that my weekend stay was to be an unforgettable experience. Months later, I long to back and show off just how splendid it truly is. As you may remember, my Milan Adventure was due to a moment of spontaneity and I wanted to enjoy every last moment of it!
---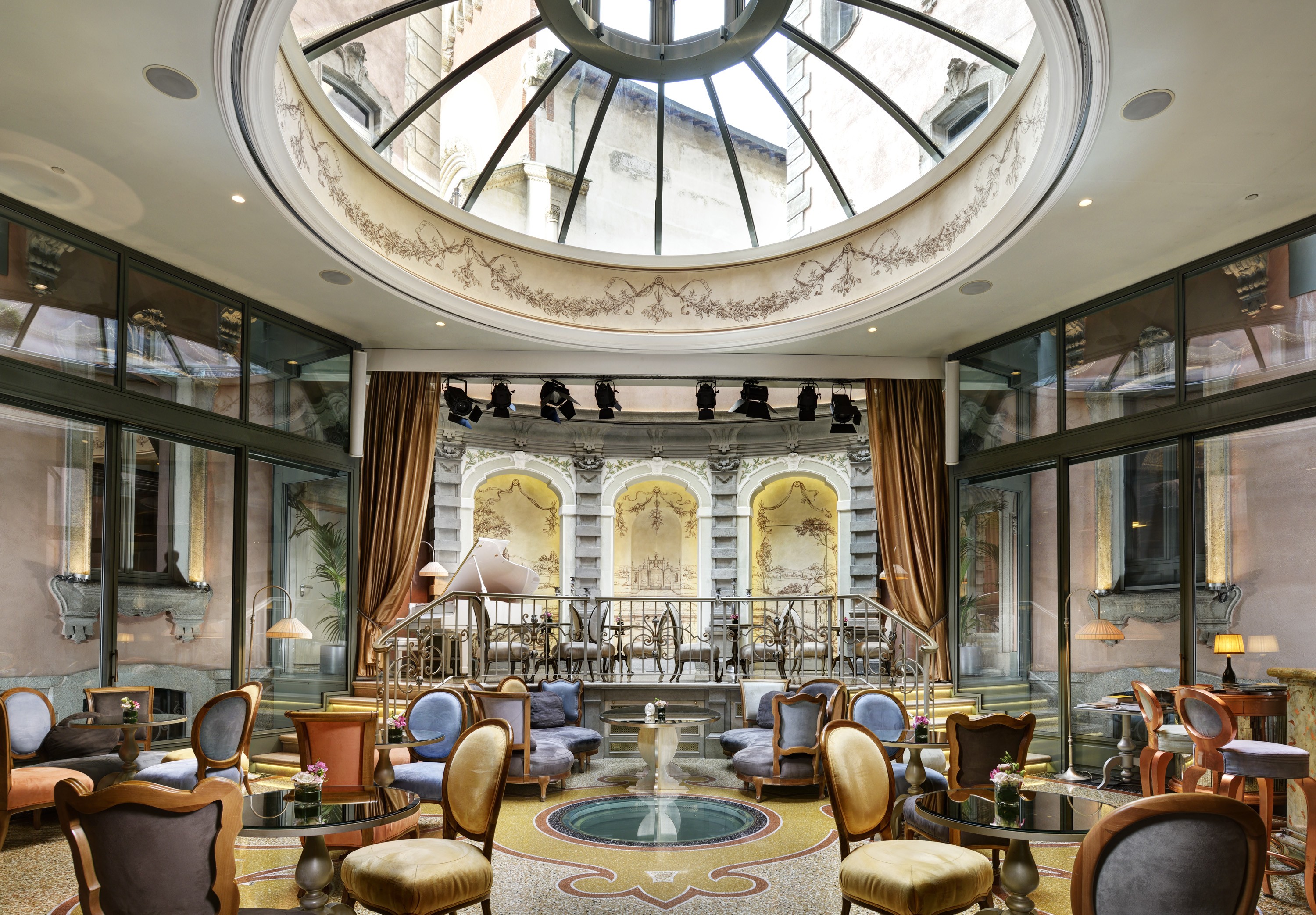 Bar Mezonette
You cannot help but be enchanted by its restored and elegantly furnished interiors…
Relax at a mirrored table as the sound of the piano fills the air, & indulge in a variety of choices for aperitivo time.
As your gaze moves along the glass panes, the blush pink exterior catches your eye, the beautiful crystal dome is the perfect place to relax as the sun sets from a busy day.
The Bar Mezonette is my favourite place to sit back and relax in style… it's just a shame it's in a different country to where I live!
(Or maybe I will have frequent here as a second home….)
---
The modern classical decor moves seamlessly with you from outside the entrance through the swirling staircases to your private room, so much so that you begin to truly feel like your are in your dream fairy-tale abode.
---
Civetta Superior Room
The Decor Inspiration:
"There is a mysterious forest in which to relive that sweet and entertaining exhilaration of childhood that made us jump whilst hearing the "Sleeping Beauty" fairy-tale. In that magical forest, where adulthood seems to disappear, we glimpse in the darkness the eyes of an owl watching over us as we sleep. Laying at the foot of the imposing tree of life, one finds themselves sleeping amongst the infinite reflections of the mirror it hosts… "
The whimsical ensuite decor has become #housegoals & unexpectedly inspired me to strive for greater success!
Imagine evenings…pouring luscious spa bath products into running water, lying back into a cloud of bubbles and resting your head back in the bath, as a pair of curtains semi-conceal the rest of the world from you, and then stepping out onto mosaic tiled floors & pulling on a soft fluffy robe
Imagine mornings… sitting beside a marble sink to get ready for each day, using a crystal- clear tilted mirror with brilliant lighting, surrounded by green tiles creating a calm & relaxing atmosphere, a routine that prepares you for a busy day
---
THE HOSPITALITY
Having stayed in a few luxurious establishments, I can firmly say the service at Chateau Monfort went above and beyond.
I was pleasantly surprised not only because I made my booking quite last minute, but also as I am probably an unusual guest to wander their building. (being in my early twenties in a 5* hotel)
Yet, they ensured that I did not go unnoticed throughout my stay from noticing my waist long hair and offering me hire of a ghd hairdryer, to providing me with extra shampoo to tame it without me asking.
The Concierge service are the secret to what made my trip in Milan brilliant!
Due to the spontaneous nature of my stay, I had little time to plan, but this was not needed in the slightest anyway. With their pearls of local milanese knowledge, they ensured I experienced as much of Milan as I could from directing me to the best place to eat pizza to where to go next and directions.
They never tired of my stream of questions throughout my days as I became a familiar face at their desk.
---
AMORE AND PSICHE SPA
an luxurious spa dedicated to the mythological gods Amore and Psyche
it's ambiance is relaxing and evocative
Stepping into the spa, you are taken a far beyond the city buzz outside it's walls
as the circle downpour of the agora falls & calms you.

Three synchronized jets of water come out of the wall, sided by the Mediterranean bath and a wooden sauna.
Continuing through the Spa, you can find a hot bench beside a salty pool.
Behind the pool, separated by a sheet of glass and curtains, you can lounge in the relaxation area.
There are also a number of treatment rooms and a private spa available.
With exotic touches to it's ambiance and refreshments to quench your thirst,
this Spa ensures you relax & rejuvenate.
---
As I was having too much fun on this busy spontaneous weekend,
I was only able to do a quick video below but it does not do this beautiful gem justice….
…. and so I must truly urge that you go and experience this yourself!!